Software Testing Qualifications and Training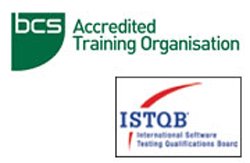 Software Testing Foundation exam format
One hour 'closed book'
40 multiple choice questions
Pass mark is 65% (26/40)
Software Testing Intermediate exam format
One hour 'closed book'
25 scenario-based questions
Pass mark is 60% (15/25)
Pre-requisite for the Software Testing Intermediate
Candidates must hold the Foundation Level qualification and have at least 18 months experience in software testing and / or have completed a BCS accredited training course for the Intermediate Certificate in Software Testing.
BCS, the Chartered institute for IT Software Testing Syllabi
BCS Foundation in Software Testing Syllabus Overview (level K3)*
The syllabus covers the following areas:
· Principles of testing
· Testing throughout the life-cycle
· Dynamic testing techniques
· Static testing
· Test management
· Tool support for testing
BCS Intermediate in Software Testing Syllabus Overview (level K4)*
The syllabus covers the following areas:
· Testing Fundamentals
· Reviews
· Testing and Risk
· Test Management
· Test Analysis
Software Testing Learning objectives / levels of knowledge
Level 1: Remember (K1)
The candidate will recognise, remember and recall a term or concept.
Example: can recognise the definition of "failure" as:
· "non-delivery of service to an end user or any other stakeholder" or
· "actual deviation of the component or system from its expected delivery, service or result".
Level 2: Understand (K2)
The candidate can select the reasons or explanations for statements related to the topic, and can summarise, compare, classify and give examples for the testing concept.
Example: can explain the reason why tests should be designed as early as possible:
· To find defects when they are cheaper to remove.
· To find the most important defects first.
Can explain the similarities and differences between integration and system testing:
· Similarities: testing more than one component, and can test non-functional aspects.
· Differences: integration testing concentrates on interfaces and interactions, and system testing concentrates on whole-system aspects, such as end to end processing.
Level 3: Apply (K3)
The candidate can select the correct application of a concept or technique and apply it to a given context.
Examples:
· Can identify boundary values for valid and invalid partitions.
· Can select test cases from a given state transition diagram in order to cover all transitions.
Level 4: Analyse (K4)
The candidate can separate information related to a concept or technique into its constituent parts for better understanding, and can distinguish between facts and inferences.
Examples:
· Can understand the various options available for risk identification.
· Can describe which portions of an incident report are factual and which are inferred from the results.
To take a look at our current selection of Software Testing courses, click here