Communication, management and workplace culture have been cited as three of the top reasons why people leave their job. The poor status of each of these factors can have such a detrimental effect on employee's wellbeing that it causes them to up and leave.
Conversely, taking care of your team's physical and mental health can improve staff retention. Here we take a look at how you as a team leader can prioritise employee wellbeing and make vast improvements to workplace culture, communications and be a better manager; simply by channeling some key HR traits and competencies.
Action better communication practices
Poor workplace communication can lead to feelings of stress, isolation and burnout. A study conducted in 2019 found that 80 percent of workers were stressed because of ineffective communication.
As a leader you will recognise the positive effect strong collaboration can have on productivity. Likewise, fostering an environment where employees feel able to raise issues or concerns of any kind with leaders can be imperative for workplace wellbeing. Both employee/employer communication and peer communication are core to creating a healthy work environment.
In our recent article Communication is key when you're in the middle, we wrote about the importance of building trusting relationships. To take this to the next level, when it comes to employee wellbeing there are simple habits you can onboard in order to action better communication practices:
Be available
Employees may not like to bother HR with what they perceive to be minor concerns, so ensure they feel they can always come to you. Be available and approachable whenever your schedule allows, and be seen in the office or online in chat hubs. Listen actively when a team member comes to you, and work together with them to form action plans and resolve any issues.
Lunchtime chat sessions
Roll out daily lunchtime chat sessions on Slack, in person or by video call (logistically you may need to break into smaller teams of less than 20 for this). These are a great way to improve the workplace culture, and employee relationships. Fret not that these 10-20 minute sessions will have a detrimental effect on productivity; research shows that workers take an average of just sixteen minutes each day for lunch! In fact, quite the opposite is true. Informal catch ups like these can provide a positive employee experience and can bring remote teams together, and in turn improve productivity.
Creating opportunities to check in with your team will enable you to better spot the telltale signs of burnout. Are there team members who always withdraw from these sessions because they are 'too busy'? Is there an employee who seems particularly downbeat or even complains about tasks? Identify where you can provide support.
Change who you are as a manager
Actively listening, offering support and being approachable are commonly traits that HR workers possess. By improving your communication skills in these ways, you will be on the road to being a better project manager. In fact, project managers are increasingly finding their skillset overlaps with HR.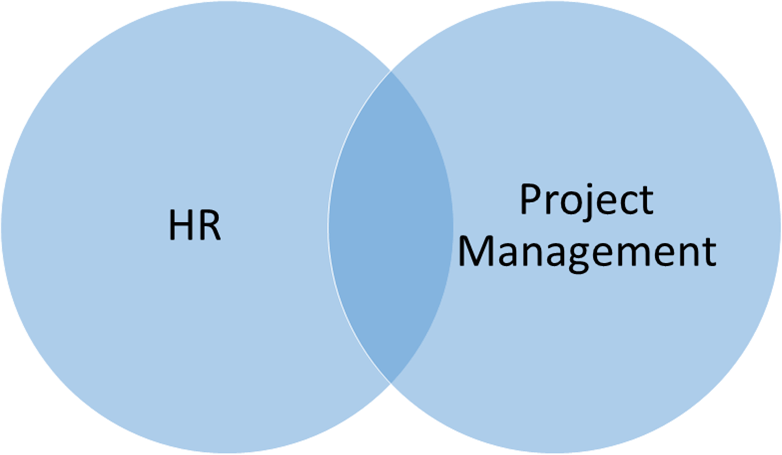 Source: click here.
Developing who you are as a manager can be instrumental to your whole team's wellbeing. In fact, adopting soft skills generally associated with HR roles can enable you to better lead your team. Something as simple as acting with humanity can have great pay-offs. Kindness increases feelings of trust, and can improve overall performance.
How you lead has great influence over the rest of your team who are likely to follow your example. Demonstrate that you are happy to get stuck in with the tasks in hand. Listen with an empathetic ear when your team comes to you, and be sure not to cross-examine. You could also:
Go beyond performance reviews
Likelihood is you have performance review systems in place with your staff, but that's not to say you can't go beyond these. Demonstrate your appreciation where you can just by giving credit. Acknowledge an employee's hard work or contribution as part of your weekly roundup email, or simply with a handwritten post-it. Perhaps co-workers could nominate an employee of the week. Showing your team they are valued needn't cost a thing.
Re-invent how you set goals
Take actions to limit stress by setting goals that give your workforce a sense of purpose rather than a feeling of pressure to perform. Take the time to mentor or guide them towards achieving these goals. This will not only help with stress reduction, but will give an opportunity for you to foster your employee/employer relationship.
Strive for a superior office culture
Fundamentally, HR soft skills are vital for project managers. Transforming communication and management's adoption of wellbeing practices hugely impacts the organisation's culture.
Make the vow to prioritise employee wellbeing by adopting some key HR skills and competencies and you will see your office culture evolve and flourish. Achieving connected employees and an engaging work environment could just be the secret to project success!
"As research has revealed, when your employees are engaged, it results in better performance, productivity and employee retention — among other factors." - The Employee Voice by Peakon
Create opportunities to improve emotional, social, mental and physical wellbeing so you keep yourself and your team healthy and thriving. Shoot to action these steps and strive for a superior office culture where wellbeing is championed.