How Software Testing Can Benefit You?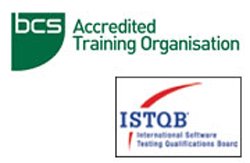 What are the benefits of studying Software Testing online?
Save money on travel, accommodation and out-of-office time
E-learning allows training anywhere, anytime, removing travel and accommodation costs and significantly reducing time off work. You don't even need Internet access for the BCS/ ISTQB Foundation e-learning course!
Increases exam success rate with special preparation tools
The BCS Foundation Certificate in Software Testing online course has a unique mock exam simulator which tests and re-tests understanding and is renowned to increase exam confidence by preparing learners for their exam.
Full support
The ILX course includes full tutorial support providing fast one-to-one access to experienced tutors via phone or email within 24 hours so users never feel isolated or stuck.
Self paced, self managed study
Self-paced study using automatic book marking lets users dip in and out of the course at any time. Most people spread the 12-14 hour course over 1-2 weeks and the exam can be taken up to 12 months after course purchase.
Get your certificate quicker
Over 30 studies show interactive e-learning reduces learning time by up to 50 percent.
Software Testing FAQ
Who are the BCS?
The BCS, the Chartered institute for IT (the Institute formerly ISEB), is an exam body that has been operating for 40 years. The Institute first provided exams in Software Testing was instrumental in the development of the original Software Testing syllabus that created the ISTQB syllabus. The Institute offer over 40 different exams in IT including IT Project Management, ITIL and Business Analysis.
The Institute accredit Training Providers to ensure that the company, their trainers and materials maintain the Institute's high standards. The Institute plays a large role in raising skills and education in IT.
The Institute has delivered over 280,000 exams and has a strong worldwide reputation for quality.
Are BCS Professional Certifications internationally recognised?
Yes, the Institute has been developing exams for 40 years and has over 140 Training Providers globally. The Institute courses have been delivered in over 50 countries including South Africa, Brazil, USA, India, Japan, Australia, across Europe and many others.
We have delivered over 50,000 exams in Software Testing so far and 35% of these have been delivered internationally.
What is the value of taking an BCS Software Testing exam?
The BCS Software Testing certification offer an international benchmark of skills and experience for Software Testers. The exams offer a stepping stone from Foundation, through Intermediate, Practitioner and onto the BCS Diploma in Software Testing. This assists testers with their career development every step of the way.
Candidates can be confident that the exams have been peer reviewed by subject experts and have been tested thoroughly to ensure the utmost credibility and reliability.
What BCS Software Testing courses are available?
BCS Professional Certifications add value to professional careers by providing both the means and the platform for recognition and enhanced career development. They also match the growth in your skills and career.
The following BCS Professional Courses are available:
How can I take the BCS Foundation in Software Testing?
You can complete the ILX Group BCS Foundation Certificate in Software Testing online training course, which includes everything required for certification, including books and the exam.
The Institute strongly recommends taking an accredited training course before attempting a BCS exam. Candidates can feel confident that by using an accredited training course the training materials, course tutors and the organisation are of a high standard and have been independently assessed by the Institute.
Detailed statistical analysis proves that candidates attending accredited training courses have a much better chance of passing BCS's examinations as well as adding more value to their career and for their employer.
Taking an accredited course can also enable candidates to understand the topics more clearly, allow interaction with tutors and fellow candidates, facilitate discussions and utilise the tutor's practical experience as a software tester.
Is the BCS Foundation Certification suitable for me?
The BCS Foundation Certification is regarded as the de facto international standard for Software Testing. Over 50,000 candidates have taken it across the world. It is aimed at new entrants to Software Testing.
However, it is increasingly used by more experienced Software Testers to ensure they understand the key topics and techniques, as well as the common language used in Software Testing.
The BCS Foundation exam is used as a way to assess the skills and knowledge of candidates. This means it is the natural start to the career of any Software Tester.
Can I practice a sample exam?
The e-learning package includes a foundation exam simulator with practice questions, so you can get used to the style required in the exam. As a result, candidates feel more confident and our pass rates are high.
How long does the e-learning course take?
The e-learning for the software testing course should take between 8-10 hours, which can be easily fitted in around your work and leisure commitments.
To take a look at our current selection of Software Testing courses, click here