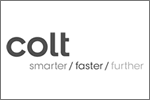 ILX delivers best practice training through flexible e-learning to COLT
...e-Learning opens up best practice training...
ILX Group is providing COLT, a leading European provider of business communications, with training support to enhance core skills. The course roll out involves a combination of four training programmes: PRINCE2 Foundation; ITIL Foundation; Managing Successful Programmes (MSP®) and Programme and Project Sponsorship (PPS). The online courses are hosted in COLT's own Learning Management System.
The ILX training courses will help deliver core competencies as set out by AXELOS Limited. It will cover a suite of best practice standards and methodologies such as Programme Management, Project Management and IT best practice training. ILX has worked closely with COLT to enable users to gain the appropriate practical knowledge or certifications.
Nicki Talbot, Technical Training Design Manager for Business Process & Systems at COLT was tasked with driving the e-Learning initiative within her teams and explains:
"We want to support the career development of our employees and increase the level of knowledge across the organisation. Our investment in e-Learning and specifically in Best Practice project management skills has efficiently provided greater access to learning to many more individuals within COLT's Business Process & Systems teams. ILX has helped us deliver project management methodologies and best practices in a user friendly e-learning format. Individuals can access training courses at any time and get a better understanding of core processes and best practices. The system also provides regular testing and feedback of individuals - so that we know that people have understood and are able to implement what they have learnt."
Talbot adds:
"We run many complex projects both internally and externally - so at a practical level the PPS course will help explain the role of project sponsors and stakeholders so that individuals involved in projects can understand their role - and what is expected from them to help the project succeed."
Eddie Kilkelly, Managing Director, Chief Operating Officer, ILX Group plc, says:
"We are delighted to be supporting COLT in their Best Practice training initiative. The beauty of
e-learning is that it enables any organisation to gain central visibility of the access, progress and performance of its entire staff. Participants can learn at their own pace targeting specific learning needs in relation to project activity and revisit this training as regularly as they need. In addition, it avoids the need to spend extended periods of time away from the project. Project management is complex, and so to create good project managers and, subsequently, sound projects, it is critical to get the development right."
More Information
For further information about what we can do for your organisation contact us using one of the following methods: