In June, the International Software Testing Qualifications Board (ISTQB) will launch a Successful Candidate Register. AXELOS has had a lot of success with its own version for courses we run, which include PRINCE, ITIL and M_o_R. ISTQB's will display passes for every type of certification in their portfolio.
This portfolio has expanded greatly since an agreement signed between the UK Testing Board (UKTB) and BCS in 2010. Software Testing certifications became globally standardised. This made Software Testing more accessible, with a shared vocabulary and certification path. This also meant some courses were discontinued. If you're not up to speed, you should be aware of the course that got cut.
BCS Practitioner qualification
In between the Foundation and Advanced level certificates, candidates can take an Intermediate level course. Up until 2011, they could then make one of five choices:
BCS Practitioner – Test Management

BCS Practitioner – Test Analysis

ISTQB Advanced – Test Analyst

ISTQB Advanced – Test Manager

ISTQB Advanced – Technical Test Analyst
The BCS Practitioner courses ended with the 2011 changes. People with these qualifications could still move forward to the Expert level Software Testing course. However, Practitioner courses stopped being taught and exams stopped being run.
Before this change, there were two different Test Management certifications and two different Test Analysis certifications. With the UKTB agreement, this seemed redundant. Now there is now more standardisation and less confusion. It should be noted that BCS hasn't abandoned all their Practitioner courses. This change only applies to Software Testing.
The Software Testing certification path then and now
These diagrams show the BCS/ISTQB certification paths before and after the March 2011 change: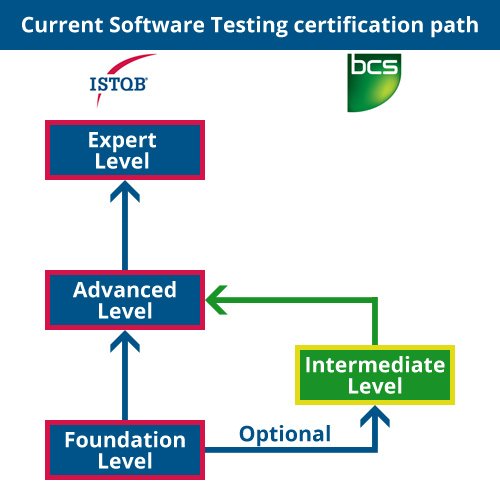 Be wary of any training provider that offers you a Practitioner Software Testing course. They may not be running ISTQB-accredited courses, or their publications could be severely out of date. Make sure your Software Testing training is not just up-to-date, but fully accredited.
ILX's Software Testing courses are fully accredited by BCS/ISTQB. That means our courses and trainers are routinely assessed and updated. Another benefits is that you will be able to prove you've passed the examination when ISTQB's Successful Candidate Register launches. Perhaps best of all, our Foundation course comes with a pass pledge, meaning unsuccessful candidates can retake the exam for free within three months. If you have any questions, feel free to contact us here.