AXELOS, the accrediting body behind PRINCE®, ITIL®, MSP® and more, has launched a brand new certification pathway. This exciting new certification scheme is called ProPath and is made up of three routes and three new designations. It brings together the world's leading project, programme and portfolio best practice certifications.
ProPath is designed to help professionals stand out, stay relevant and boost their career opportunities. It builds expertise for the future, and a breadth of skills you need to deliver meaningful organisational change, one powerful step at a time.
The three ProPath routes
There are three ProPath routes to choose from:
ProPath Project Expert - to obtain this designation professionals need to pass the following combination of qualifications:
Each of these AXELOS courses are offered here at ILX. This designation is aimed at project management professionals who are looking to achieve a holistic view of their projects, whilst managing risk and delivering consistent results.
ProPath Agile Project Expert - as above, this pathway comprises the MSP Foundation and Practitioner qualification and the M_o_R Foundation and Practitioner qualification; but this time combined with PRINCE2 Agile® Foundation and Practitioner qualification.
ProPath Agile Project Expert equips you with unrivalled resilience in our ever-changing world. The designation is perfect for professionals focused on flexibility and responsive agile delivery techniques; again, all whilst gaining a holistic view of projects.
ProPath Programme Leader - to obtain the ProPath Programme Leader designation, AXELOS specifically selected the following combination of qualifications:
This enhances a professional's ability to manage the complexities of multiple projects and programmes. Combining the rigour of P3O, with the big picture focus of MSP and MoP, professionals will demonstrate their leadership skills which will inspire others and deliver results.
What ProPath can do for you
Choosing a ProPath designation pathway arms you with the skills and expertise needed to support both your organisation and your career. Each route encompasses proven methods and frameworks for directing change, reducing costs, increasing efficiencies, and aligning decisions with your organisation's strategic objectives.
Pursuing the ProPath Project Expert or ProPath Agile Project Expert designation will help professionals to develop the knowledge and skills required to be able to tackle challenges with confidence. You will learn how to do more with limited resources, better understand and manage risk, and improve your ability to deliver consistent results with maximum benefits.
Likewise, the ProPath Programme Leader designation is ideal for those looking to control the impact of risk, and better understand how projects fit into the bigger picture of programme and portfolio management. The ProPath Programme Leader route focuses on the importance of maintaining alignment with corporate strategy, and equipping you with the skills to manage complex programmes.
And as your practices strengthen, so too will your career prospects. Evolving your talents in successful handling of larger projects will boost your career, allowing you to grow in your role or progress with new challenges.
Delivering meaningful change in a changing world
Adaptability and change have been the buzzwords of the last year. Organisations have transformed at a previously inconceivable pace at the hands of the pandemic. Change has become a constant, meaning companies must be ready to pivot their ways of working, and even change the fundamental nature of their work at a moment's notice.
In order to be future-proof, organisations are looking to professionals to deliver change. ProPath has been designed to help you do exactly that. Professionals certified in best practices have the skills to master the pace of change, making them indispensable to businesses.
As well as enhancing personal performance, ProPath equips professionals with a progressive development structure allowing them to deliver meaningful change for their organisation. The designation's best practice certifications mean that companies can make sound investments for the future in a changing world.
Continual improvement
Why stop there? Along with the three new designation routes, ProPath has designed an ultimate designation – The Certified Portfolio Director. In order to achieve this industry-leading endorsement you must first earn:
- ProPath Project Expert OR ProPath Agile Project Expert
AND
- ProPath Programme Leader
More details on how to apply will be announced later in 2021.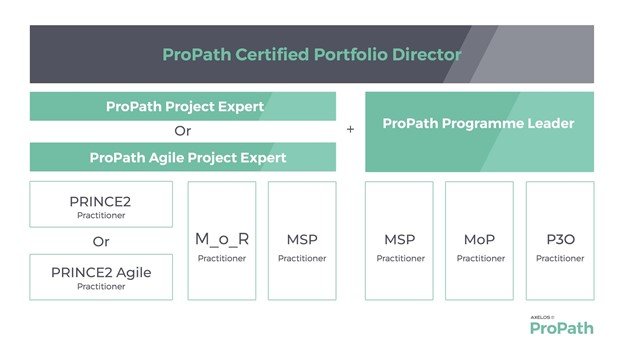 Combining these designations to become a ProPath Certified Portfolio Director will see you operate as a key player for change within your organisation. You will gain significant expertise required for planning, directing, monitoring, and correcting the course of change. This will ensure you support your organisation, remain competitive and will result in extraordinary outcomes.
Whichever designation is your destination, begin your ProPath journey today!