MSP Principles
Managing Successful Programmes (MSP®) identifies the following principles of effective programme management and suggests how to put them into practice: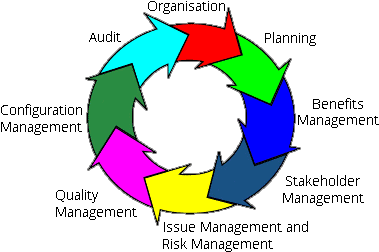 Programme Management Organisation - giving people clear roles, responsibilities, leadership and lines of communication. There is a Sponsoring Group of senior executives. This includes the Programme Director with ultimate accountability

Programme planning - using a Programme Plan to establish and maintain control

Benefits management - identifying, optimising and tracking expected benefits, ensuring they are achieved

Stakeholder management - ensuring all interested parties are appropriately involved in the programme

Issue management and Risk management - a strategy for dealing with current and anticipated problems

Quality management - ensuring that the end products of the programme are fit for purpose

Configuration management - keeping monitoring information about the programme up-to-date and accurate

Audit - ensuring that technical, statutory, contract and accounting standards are used
MSP Processes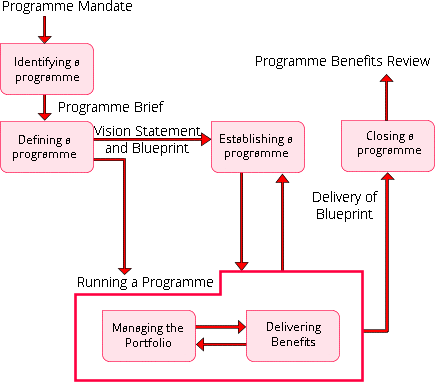 The first process, Identifying a Programme is triggered by a need for change in the form of a Programme Mandate. This provides the high level requirements of the programme. A Programme Brief is then prepared. The Brief defines the aim and envisaged benefits to the organisation.
If the programme seems justified, senior management can then agree to proceed to the next process. This is Defining a Programme, where the initial vision is refined into the Vision Statement and the Blueprint is prepared. At the same time strategies and procedures are developed for managing people, progress, costs, benefits, risks, issues, quality and communications. The programme is thereby clearly defined and the Sponsoring Group decide whether to formally commit to the programme or not.
If they give approval to proceed, then the next process, Establishing a Programme, is used to appoint individuals to programme management and support roles and to set procedures and infrastructure.
The programme then runs. The purpose of the process, Managing the Portfolio, is to provide an effective monitoring and management regime for the projects within the programme such that they deliver according to plan. There are links to PRINCE2, AXELOS Limited's project management method.
The programme will deliver new capabilities, services or business operations. The purpose of the process, Delivering Benefits is to track the specific benefits identified at the start of the programme and drive through the process of realising these benefits throughout the programme and at the end. This process also manages the transition between old and new ways of working.
The activities in Closing a Programme ensure that the programme does not 'drift on' and there is a clear focus on achieving the 'end-goal'.
Get an MSP Qualification
To enrol on an MSP course click here. We offer Foundation, Practitioner and Advanced Practitioner training options that range from classroom, blended learning and e-learning solutions to suit your study style and goals.