We are exhibiting at the Learning Technologies show, and visitors to our stand (Q8) will be able to speak to ILX experts about a wide range of courses including PRINCE2®, ITIL®, Managing Successful Projects®, Management of Risks® and AgilePM®.
What to do?
VISIT OUR STAND (Q8)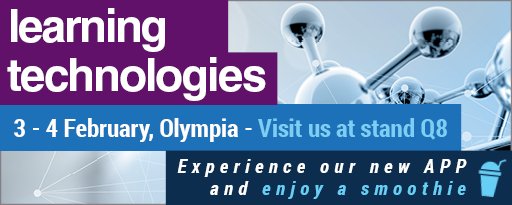 We will be highlighting our new ILX Player APP which can be downloaded for free from the App store or Google Play. The ILX Player enables leaners to download their course content to their phone or tablet. At no extra charge.
The App provides a quick and easy access to downloadable video content that they can access whether online or not. Users can study anywhere without the need for an internet connection.
https://www.youtube.com/watch?v=bPzeJgGHz2A

A number of whitepapers, demonstrations and a selection of smoothies will also be available on both days of the event.
To register to attend Learning Technologies please visit:
https://www.learningtechnologies.co.uk
JOIN OUR SPEAKING SESSION
'Why 50 percent of learning fails to deliver business benefits and how mobile learning can help plug the gap'.
Our Managing Director Russell Kenrick will be speaking on the first day of the show, Wednesday 3 February at 14:45 – 15: 15, theatre 8. 
The sad reality is that 50% of all learning fails to deliver business benefits to the companies and individuals who invest in it. And with more pressure on Learning & Development to demonstrate Business Benefits something has to change.
Meet India, India is a trouble shooting Project Manager working for a start-up FinTech company with offices in San Francisco, London and Sydney. She orbits the planet on a monthly basis and, if you were ever lucky enough to meet with her, she would always say the same thing - "I am crazy busy".
But India has development needs – and needs to be able to learn on her terms. Technology can not only deliver quality training to her at the time and place that best suits (including those long trips over the Pacific) but also enable her to retain and apply the knowledge she has learned.
In this presentation Russell will review the journey from business goals to business benefits and the role that technology enabled learning plays. Looking at the academic theory around knowledge transfer, the causal link between quality design and delivery and business benefits, and the hype surrounding 70:20:10; he will explore the benefits of mobile learning as part of a blended learning proposition.