Back in the summer we spoke out on the subject of "Black Lives Matter", the first time that we'd done something like that. And for us, that was just the start… over the past few months here at ILX, we've been working on our approach to diversity and inclusion, and looking at the positive changes we can make as a business to ensure that everyone who works for us feels included, and doesn't feel that they have to hide any part of their identity.
Supporting diversity in the workplace has always been an important part of business – it's not something new. But at ILX, we recognised that it was something we hadn't ever focused on, and we wanted to make a change. Showing everyone that they are valued as an individual not only helps each of us to feel more content in our roles, but we believe it's a key part of good people management.
And the stats are there to back us up. Diversity is no longer a 'nice to have', it's now a key metric when analysing business growth and performance. As of 2019, companies in the top quartile for gender diversity on executive teams were 25% more likely to have higher than average profitability than companies in the fourth quartile. The same can be said for ethnic and cultural diversity, with top-quartile companies outperforming those after them by 36% in profitability.
However, diversity is only part of it; we also knew we needed to focus on creating and maintaining inclusive environments, because this is what helps everyone to feel accepted, supported and respected in our workplaces. Like so many other companies, we firmly believe that having an effective diversity and inclusion strategy in place adds value to an organisation, both in terms of business outcomes and employee satisfaction and engagement. And this is exactly where we've started.
So what did we do? Back in the summer, we formed an internal group dedicated to improving our existing diversity and inclusion policy, and developing a more comprehensive strategy for the future. Looking at ourselves, we realised one of the things we needed to do was to create a baseline for where we were starting, so that we could accurately reflect on our progress, and build on that in years to come. So, following a company-wide survey, we've created to represent how ILX looks today. We also included three questions in our annual employee engagement survey to ask people how they felt about diversity and inclusion at ILX, the results for which are as follows: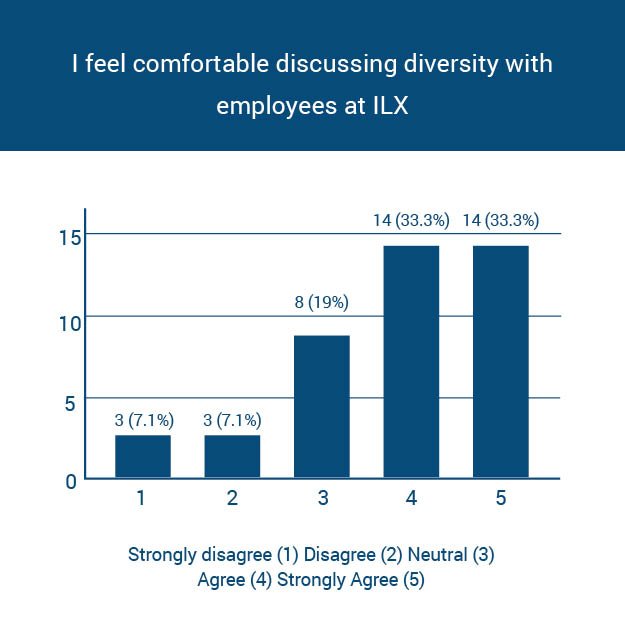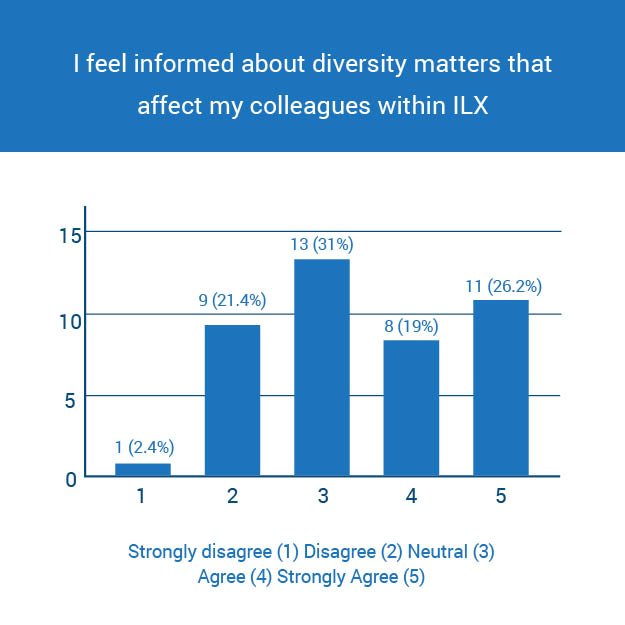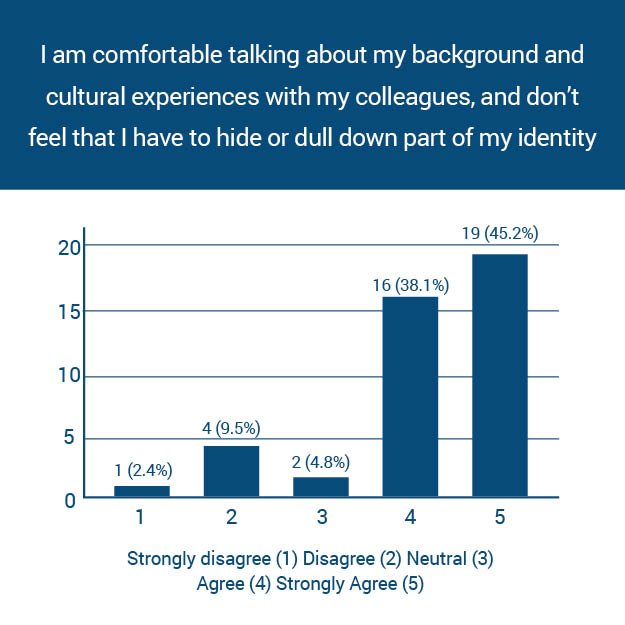 Our decision to focus on diversity and inclusion with more intention comes from both a personal and a professional perspective. On a personal level, we want every individual in the business to feel seen and valued for who they are. While it may seem obvious, feeling valued or undervalued on an individual level can have a profound effect on motivation and productivity levels, as well as overall well-being – and we're already seeing positive effects here within our internal working group.
On a professional level, a more diverse team with a variety of backgrounds, perspectives, abilities and ideas increases innovation. With more varied experiences forming the basis of business decisions, organisations like ours become more efficient at solving problems, and more resilient to change. Likewise, with a diverse and inclusive workforce behind them, companies can widen their reach and capture new markets more effectively, and even improve their recruitment efforts – now, 76% of jobseekers consider a diverse workforce an important factor when evaluating job offers.
Have a look at our infographic to see what ILX looks like today! We're also working on our next podcast series, which will focus on diversity and inclusion in the workplace, so if you'd like to take part in the series, please get in touch with Alice in our marketing team.